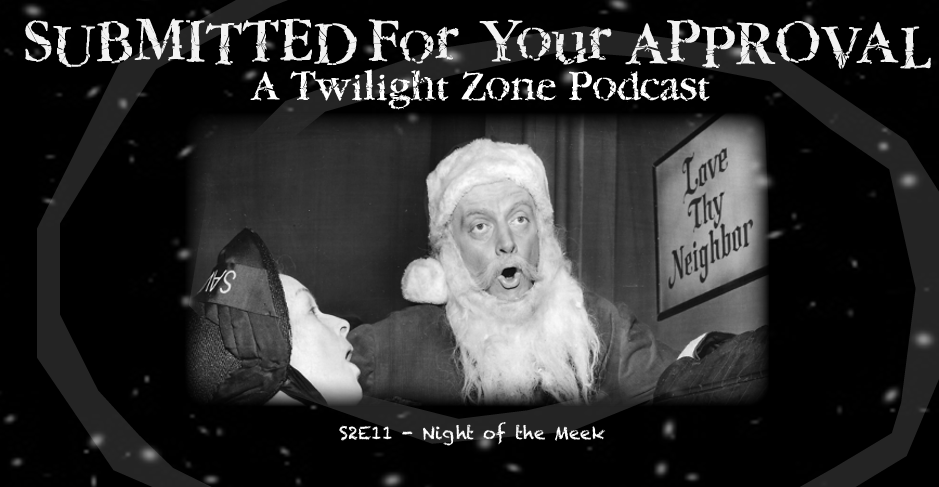 Podcast (twilightzonepodcast): Play in new window | Download
Subscribe: Apple Podcasts | Android | Email | RSS
On a very special Twilight Zone Christmas, the super fun and funny Chelsea Cruz stops in the studio to make a little yuletide podcast magic discussing "Night of the Meek"!
When I started this season, I lined up the dates for everything. When I noticed that I could have "Night of the Meek" release on Christmas day, I figured that would be perfect. I knew that, although Chelsea doesn't like the episode necessarily, I wanted to record it with her; I wanted to make sure that I spent Christmas with her this year. 
Most of you might not read this or listen to the episode for awhile, but thank you so much for your support and Happy Holidays to each and every one of you out there!
Show Notes:
Originally aired: December 23rd, 1960
Starring:
Art Carney as Henry Corwin (The Honeymooners)
John Fiedler as Mr. Dundee (Piglet, 12 Angry Men)
Directed by: Jack Smight (4 episodes: Lateness of the Hour, The Lonely, 22… also directed a Columbo episode)
Teleplay by: Rod Serling
Synopsis: A drunk, melancholy mall Santa likes to drink his sorrows away and ends up getting fired from his gig by Piglet. He goes outside in the snowy streets and hears sleigh bells overhead. He turns the corner and finds a sack full of presents which he immediately starts divvying out to everyone he passes. This, of course, stokes suspicions and he is arrested. When his bag is checked out and seems to only have trash and a random cat, he is released. After giving away all the presents, content and happy, he turns the corner and finds an elf and a sleigh with a full set of reindeer. He gets on the sleigh and flies away, getting his Christmas wish: to be Santa Claus every year.
Social
Facebook: Facebook.com/S4YApodcast
Instagram: s4ya_podcast
Twitter: s4ya_podcast
Email: s4yapodcast@gmail.com
Call: 860-Go-TZPod
Website: www.apatheticenthusiasm.com/submitted-for-your-approval
iTunes – Head out and leave me a rating and/or review. I really do appreciate any and all feedback