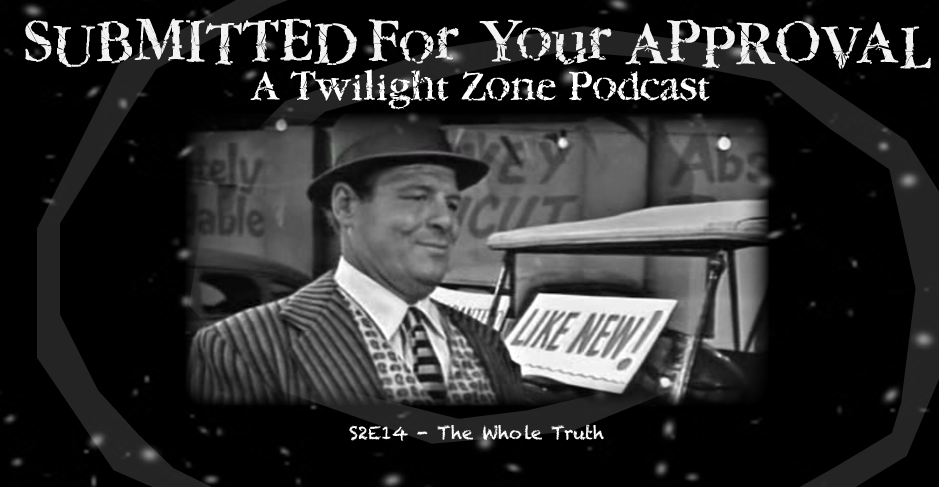 Podcast (twilightzonepodcast): Play in new window | Download
Subscribe: Apple Podcasts | Android | Email | RSS
The extremely knowledgeable owner of @TheNightGallery Twitter account and owner of Shadow & Substance blog, Paul, helps me out again with selling this episode to you… I'm speaking The Whole Truth.
Paul is awesome and if you haven't seen his blog or if you're not following him on Twitter, you're doing yourself a disservice!
Show Notes
Originally aired: January 20th, 1961
Starring:
Jack Carson as Harvey Hunnicut
Directed by: James Sheldon (6 episodes, Long Distance Call and It's a Good Life)
Teleplay by: Rod Serling
Synopsis: A lying, conniving con man of a car salesman, Mr. Hunnicut, purchases a haunted vehicle that forces him to tell the truth! After realizing how much of a profit telling the truth cuts into, he manages to find a potential buyer… a politician who finds giving it to someone else might be handy.
A bit later, Nikita Kruschev drives away in a new vehicle…
Social
Facebook: Facebook.com/S4YApodcast
Instagram: s4ya_podcast
Twitter: s4ya_podcast
Email: s4yapodcast@gmail.com
Call: 860-Go-TZPod
Website: www.apatheticenthusiasm.com/submitted-for-your-approval
iTunes – Head out and leave me a rating and/or review. I really do appreciate any and all feedback