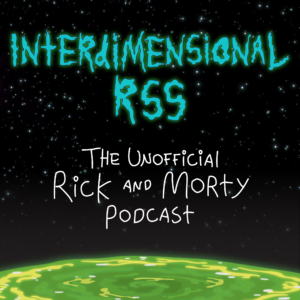 Podcast (rickandmortypodcast): Play in new window | Download
Subscribe: Apple Podcasts | Android | Email | RSS | More
We're kicking off the wait for Season 4 with the episode that started it all! We're talking season 1, episode 1, "Pilot". Want to know what we thought? Hit the break for more!
SHOW NOTES – Pilot! 
Semi Pertinent News
Fantasy Face Off
Thanks to listener SciFiPi for this suggestion!

How is it going to work?

New face off each week

Unity can vote all week on twitter and facebook

We will recap the battle of the week and then pick next week's fighters

First Fight!

Krombopulos Michael v Squanchy 24 votes, 67% for Squanchy
Main thang
S1E1 – "Pilot"

Originally aired: December 2, 2013

Written by Dan Harmon and Justin Roiland

Directed by Justin Roiland

Synopsis

Rick needs Morty to go run a sci fi errand with him. We meet all the main characters.

Production Notes

I like that Morty takes charge in that cold open… notes about this getting the show made and whatnot…

The bomb arms at the end? What happened?

Favorite Bits

"High-concept sci fi rigmarole"

Morty's high school math is at a 1st grade level

Rick's Inspirational speech about facing fear head on and then immediately turning and running from something he has never seen.

The thing where Rick jumps through the portal to heal Morty's legs

Future dimension? Time travel?

Some really good stuff we missed, certainly in the Rick and Morty subreddit Community Rewatch

post

@InkedInspector –  Kidding aside, I love how Rick equates bureaucrats to robots, cracks me up every time

Do you think this is a good entry point for new Rick and Morty Viewers?

It's crazy to see how far along the art and overall production value has come from this pilot episode.
Listener Suggortions and Short Outs
Patreon!

Big thanks to Justin for the support and for forcing us to figure out how we will do a livestream!

Tweets

Dakota Jack (also sent an email)

what is that little yoda-like thing in the bushes looking at them during their picnic in the 6th photo? did i miss something or is that just an outside reference to something that i don't know about

Stacey's Parlour – 12 Pods of Christmas
Social
Twitter! @RickandMortyPod
RickandMortyPodcast.reddit.com
www.facebook.com/RickandMortyPodcast/
TeePublic! – www.apatheticenthusiasm.com/shop
PATREON! https://www.patreon.com/RickandMortyPod