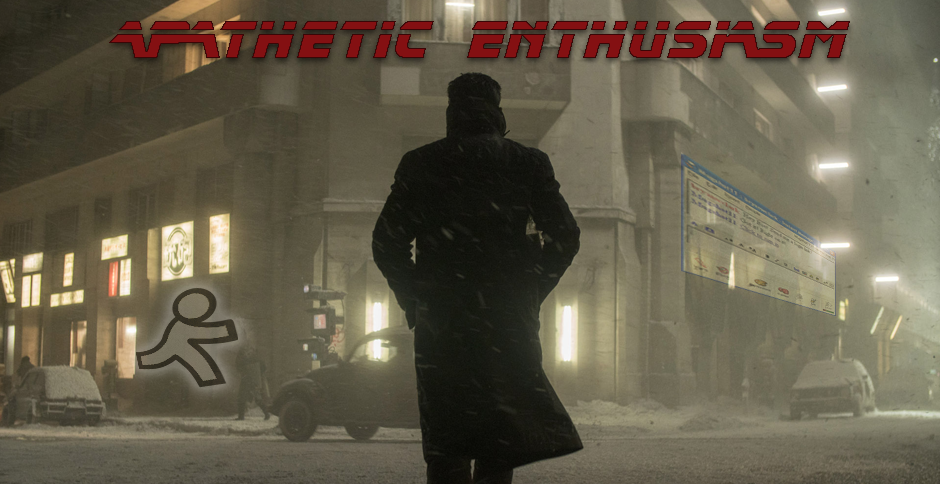 Podcast: Play in new window | Download
Subscribe: Apple Podcasts | Android | Email | RSS | More
With the death of AIM and the release of Blade Runner 2049, we talk internet chat history and just what makes humans human on a brand new episode!
MAIN THING – AIM and Blade Runner 2049
The Life and Death of AOL Instant Messenger!

A history of our messaging coming of age

Blade Runner 2049 Review

We warn you if it gets too spoilery!
EXTRA THOUGHTS
Here's a fantastic article that goes further on some of the points we hit on for Blade Runner 2049. We just barely scrape the surface on a discussion on the roles women serve in the Blade Runner universe.
Also, on a personal note, Blade Runner was always a fascinating film to me. My late-Uncle was a huge fan of the movie but I hadn't even watched it before reading Do Androids Dream of Electric Sheep. In some ways, the emotional resonance of the film was sharper to me because of the importance memories and memorials play in the course of the narrative. Daniel would've loved it.
SOCIAL
We're serious about making this show about different opinions and perspectives, so shoot us an email or hit us up on Twitter!
Social Media
Twitter – @apathusiast, @jugglemeno, @stevetheheb
Facebook – https://www.facebook.com/apatheticenthusiasmshow/
Instagram – apathetic_enthusiasm
Email – apatheticenthusiasmshow@gmail.com
Web – www.apatheticenthusiasm.com