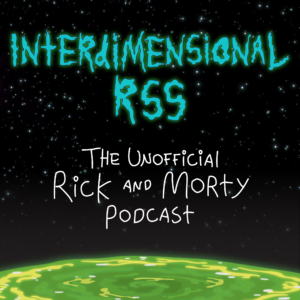 Podcast (rickandmortypodcast): Play in new window | Download
Subscribe: Apple Podcasts | Android | Email | RSS | More
The end of Season 3 came and went. Now's the time to talk about the whole thing AND a little bit about #Szechuangate!
SHOW NOTES – Season 3 Recap
Semi Pertinent News
Is there a secret episode coming?!
The Sauce was back (and bungled all to shit)
Apathetic Enthusiasm shout-out again
Corrections/other stuff
Main Thang – Season Recap
Character Recap

Morty
Jerry
Summer
Beth
Rick
Questions

What's changed from the start of season 3 and going into season 4?
Top 3 and Bottom 3 episode ranking
Our favorite episode of the season
Favorite PODCAST episode of the season
Our favorite non-season 3 PODCAST episode of the season
Terry Flaps! Toldy folds!
Listener Suggortions and Short Outs
A bunch of these!!! Everyone from Twitter, Discord, Email, and sending us reviews, we appreciate everything you've done and said and we can't wait to spend more time with you during the inevitably long wait!
Social
Twitter! @RickandMortyPod
RickandMortyPodcast.reddit.com
www.facebook.com/RickandMortyPodcast/
TeePublic! – www.apatheticenthusiasm.com/shop