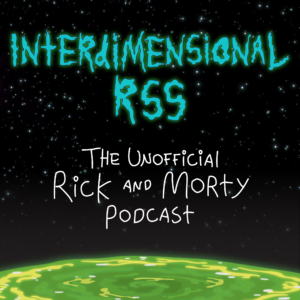 Podcast (rickandmortypodcast): Play in new window | Download
Subscribe: Apple Podcasts | Android | Email | RSS | More
The time is nigh! We get ready to go on a month or two Interdimensional break while Brandon catches his bearings (and moves to a different state!)
SHOW NOTES – Interdimensional Break
Semi Pertinent News
Omaze Fundraiser
Justin, Dan and Mike all met Elon Musk
Featured Artist!
Sent to us by Grant Ramos on Twitter: https://youtu.be/0TBht1kVYwI
The Delicious Taste of Ice Cream – By tiarawhy
Snagged the audio from Virtual Rickality
Main thang – Interdimensional Break

We are taking a break

Brandon is moving
Going to definitely record something while you are in town
Another Live Stream is happening
Questions

Time Travel in Rick and Morty (why it shouldn't be a thing)
Poopybutthole a grown up meeseeks… what??!
Listener Suggortions and Short Outs
Tweets

@TotsSM Is it possible the Mr. Meeseeks that was order to kill another Mr. Meeseeks is still suffering the pain of existence?
@Meyselph

Yeah the second you tease meaning and continuity you kinda have to accept responsibility for it imo. Doesn't mean they have to make……every episode tales from the citadel but they should probably lay off stuff like casually suggesting extra unexplained universe jumps….

Email
Reviews

Shwifty Nick – 100 seasons, sauce interviews
JacobEL94 – 2 stars, Bad Jokes, not what I was looking for.
Arstrig – Best Rick and Morty Podcast – At least 6 standard deviations off the finite curve or Rick and Morty Podcasts
Social
Twitter! @RickandMortyPod
RickandMortyPodcast.reddit.com
www.facebook.com/RickandMortyPodcast/
TeePublic! – www.apatheticenthusiasm.com/shop
PATREON! https://www.patreon.com/RickandMortyPod .
Woohoo!!