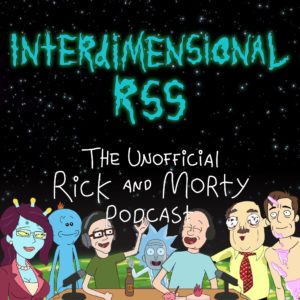 Podcast (rickandmortypodcast): Play in new window | Download
Subscribe: Apple Podcasts | Android | Email | RSS | More
When you think of movies and television, you think of the creators behind a piece of media. The really cool thing about creation is its collaborative nature! This week, Brandon talks to a director in animation, Bryan Newton!
If you don't know who Bryan is, don't worry! Listen to this episode to hear all about his background and history and unique insight into the creation of some of Rick and Morty's most memorable episodes!
There are a few ways to hit him up! On Twitter @DarkKingZoro!
You can follow his shows, Asspodcast and onepiecepodcast on Twitter as well! FInally, if you want to watch Asspodcast, be sure to check it out on Facebook or Youtube 
SHOW NOTES – Bryan Newton Interview!
Semi-pertinent News!
Pocket Mortys Multiplayer is HEREREERE?
Vice News (maybe more semi-pertinent than us) about product placement
The Science of Rick and Morty Panel at Comic Con
Main Thang
Bryan Newton Interview!!!!!!!!!!

Directed 4 episodes of Rick and Morty
Worked on Teen Titans GO! and Right Now Kapow!
Listener Suggorstions and Short-Outs
Twitter

@Quick6669 – Will June 30 start with the Apr 1 show? Since Rick C-137 switched bodies, is he really Rick C-137?
@qwhiz – the Beetlejuice RAM pic!

Email

Hey guys! Love the Rick and Morty show!

Questions

Ciredark – So ur with ur honey and yur making out wen the phone rigns. U anser it n the vioce is "wut r u doing wit my daughter?" U tell ur girl n she say "my dad is ded". THEN WHO WAS PHONE?

Reviews

Fedor87 – Short and sweet – If you don't know anyone that enjoys watching Rick and Morty as much as you this is the next best thing to having someone to talk to about it. Also, a great podcast for getting any and all news related to Rick and Morty. They are also kind of funny
SOCIAL
Hey, you're doing an awesome job in the subreddit and over on Twitter! Keep sending us your Rick and Morty comment (even if you Stealy it) and we'll push it out! We want to be another source of awesome Rick and Morty content!