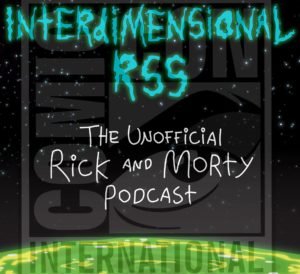 Podcast (rickandmortypodcast): Play in new window | Download
Subscribe: Apple Podcasts | Android | Email | RSS | More
That's right! The pop-culture extravaganza, San Diego Comic Con (SDCC) rears its head again! You know damned right that Rick and Morty is part of this party, and we're THERE to cover it (there meaning our living room's like losers)
SHOW NOTES – SDCC: Com-Rick Con!
Semi Pertinent News – Little Bits
Honolulu Comic Con Script Reading
Interdimensional Cable III – Comic  – Oni Press/Kyle Starks
Main thing – SDCC Rick and Morty Bonanza!
Exclusives

Pickle Rick
Golden God Rick

Rick and Morty Panel

Schezchuan sauce from mcDonalds
Rick and Morty Cosplay (Meeseeks)

Petco premiere of Season 3 Ep 2

@theDanielWolf – Morty is the strongest there is. #blooddome
@OrfitelliYO – it was dope af!
@Masinomous – some dude eatin some chick?

Also a SEA of Rick masks…
Listener Suggortions and Short Outs
Tweets

Erik Paulsen sending us those RAM pics doe

Email
Reddit

/r/RickandMorty – Pickle Posts…. WTF
SOCIAL
Hey, you're doing an awesome job in the subreddit and over on Twitter! Keep sending us your Rick and Morty comment (even if you Stealy it) and we'll push it out! We want to be another source of awesome Rick and Morty content! Of course, listen to any of our other podcasts!