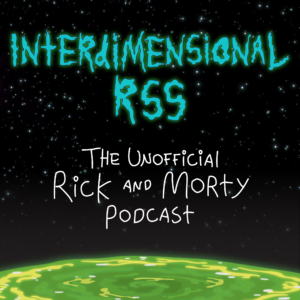 Podcast (rickandmortypodcast): Play in new window | Download
Subscribe: Apple Podcasts | Android | Email | RSS | More
It's time for Episode 3!!! Pickle Rick! Was it worth it? Is it everything we've dreamed of for the past year? Have a listen to find out!
SHOW NOTES – Pickle Rick
Semi Pertinent News – Little Bits
SauceNews 2017 – Sauce for Sale

Real Big Story – Ryan Elder
Main thing –
Pickle Rick – Ep 303

Cast/Credits

Danny trejo – Jaguar

Peter Serafinowicz -Head of the Embassy


Susan Sarandon – Dr Wong, Family Counseling and Coprophagia Recovery

Plot Synopsis

A – Rick is a pickle, and gets into a … pickle

His elaborate system for harvesting roach and rat parts

Solenia

B – Family Counseling with Dr. Wong

Continues to deal with the Smith family fallout after the divorce

Summer huffs enamel and Morty wet his desk

Loads of exposition

Favorite Bits

The extremely elaborate rat suit update machine

Eating poop

Unity Thoughts
Listener Suggortions and Short Outs
Tweets –

Emails

Jamie Gross: The Quote Challenge

Facebook

Lee Tapscott Cosplay

Everyone Participating in the Meeseeks/Needful thread

Questions from Reddit

Mikołaj Perzyna (Mee-ko-why Pe-gy-na)

Bojack Horseman Crossover?

Devindavis386

How do we watch the show?

Reviews

TerryWolf77 – "I squanch to every episode"

Simon J Arias – "Feels like sitting and chatting with pals about the show"

Rms16270 – "The morning commute has vastly improved since I started listening to these pee pee heads. Keep up the good work, losers!  Signed -Abe Lincoln
SOCIAL
Hey, you're doing an awesome job in the subreddit and over on Twitter! Keep sending us your Rick and Morty comment (even if you Stealy it) and we'll push it out! We want to be another source of awesome Rick and Morty content! Of course, listen to any of our other podcasts! THANKS!!