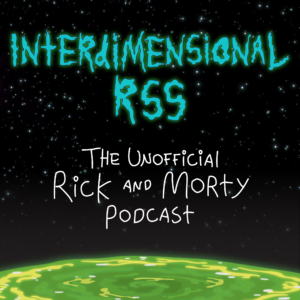 Podcast (rickandmortypodcast): Play in new window | Download
Subscribe: Apple Podcasts | Android | Email | RSS | More
Are you ready to have your mind blown? Join us this week to hear the director of Morty's Mind Blowers, Bryan Newton, wow us with tales untold of all the goings on in this new episode!
SHOW NOTES – Morty's Mind Blowers
Semi Pertinent News – Little Bits
MERCH!
VICE NEWS – Is Rick and Morty as Smart as its fans think it is?
Main thang
Morty's Mindblowers

Written By Mike McMahan, Justin Roiland, Dan Harmon, James Siciliano, Dan Guterman, and Ryan Ridley
Directed by Bryan Newton
The whiteboard of Mind Blowers (via Twitter)

Production Questions
Favorite Bits
Unity Thoughts
Listener Suggortions and Short Outs
Patreon!

Big thanks to all the new Patrons including: Terry Wolf, Steven Cunha, Nicholas, and Heather Louise

Tweets
Email

Haily McNulty

Watching Rick and Morty in Florida in a car!

Reviews
Social
Twitter! @RickandMortyPod
RickandMortyPodcast.reddit.com
www.facebook.com/RickandMortyPodcast/
TeePublic! – www.apatheticenthusiasm.com/shop