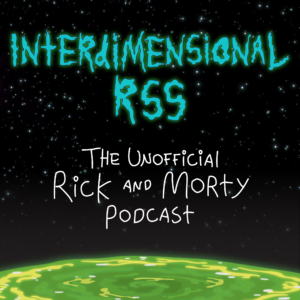 Podcast (rickandmortypodcast): Play in new window | Download
Subscribe: Apple Podcasts | Android | Email | RSS | More
After a whirlwind season 3, we're here to talk the season finale, The Rickchurian Mortydate! What did we think of the episode? Tune in!
SHOW NOTES – The Rickchurian Mortydate
Semi Pertinent News
Holy crap the sauce is back…

Shout out to Chef Mike! Check buttermilkcrispytenders.com to see where you can get that sauce

Apathetic Enthusiasm is back too!

This week we look back at why the podcast was on hiatus (mostly because of this podcast)
Also cover our attempts at Cuphead, PUBG as well as the movie IT and more!

Corrections/other stuff
Main thang
Ep 310 – The Rickchurian Mortydate

Written by Dan Harmon, Directed by Anthony Chun

Synopsis –

Rick and Morty get in a fight with the President.  Beth has a mental breakdown and gets back together with Jerry.  Rick is not amused.

Justin and Dan just offloaded a bunch of stuff they like
Rick and Morty vs The President
Beth and Jerry Part 2
Bigger questions

Why does Rick push the issue of the selfie, even though Morty clearly doesn't want it?
Do you feel the episode had a specific political message?
What's your favorite sugar chicken at Panda E?

Favorite Bits
Unity Thoughts
Listener Suggortions and Short Outs
Patreon!

Weasel Harmony! Freshbutnoteasy!

Tweets

@staceysparlour – Keith David talk
@Tensai214 – @RickandMorty one of my favorite lines from the show "Let's get the F out of H!" what about you guys @RickandMortyPod?
Jaison Abraham – The wikipedia page for Rick

Email
Reviews

Weasel Harmony – loves the podcast and appreciates how we represent the Rick and Morty community
Quitethefellow (Mike) – long review, rose colored glasses (feels this season is the weakest of the three)
Thealexalcala – I listen to quite a few rick and morty podcasts and this one is by far my favorite.  I only wish they had done season 1 and 2.
Social
Twitter! @RickandMortyPod
RickandMortyPodcast.reddit.com
www.facebook.com/RickandMortyPodcast/
TeePublic! – www.apatheticenthusiasm.com/shop