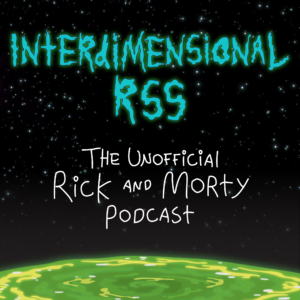 Podcast (rickandmortypodcast): Play in new window | Download
Subscribe: Apple Podcasts | Android | Email | RSS | More
This week we get crazy with some simulation action in M. Night Shaym-aliens!
SHOW NOTES
Semi Pertinent News
Semi-Pertinent news brought to you by Pop Funko

NO FUNKO NEWS, THANK GOD… that's semi-pertinent

Rick and Morty win at the Annie Awards!!
Whitney Avalon Youtube video – I'm Fine
Dan Harmon tweet minute

if you're feeling down today, keep in mind that at one point, the quality of life was so low for so long that the most accessible benchmark for comparing "great things" was "sliced bread."
Main thang
S1E4 – "M. Night Shaym-Aliens"

Originally aired: December 16, 2013
Written by Eric Acosta and Wade Randolph
Directed by John Rice

Synopsis

Rick and Jerry are held captive by aliens in a virtual reality in this M. Night Shyamalan style episode. Rick attempts escape multiple times, only to discover that there are multiple virtual realities encased in one another. However, despite system glitches, Jerry remains completely unaware while trying to sell his advertising slogan for apples. Rick finally games the aliens by giving them a fake recipe for the concoction they were seeking to retrieve from him. The aliens send Rick and Jerry on their way and later explode from the concoction.
Blood Dome Battle League
Fart vs. Mr. Meeseeks
What happened?

38 to 62 (Meeseeks)- Twitter
28 to 72 (Meeseeks) – Facebook

NEXT UP: Blim Blam the Korblock vs. Water T
Listener Suggortions and Short Outs
Patreon!

Thanks for the support! We are almost about to reach our first stretch goal!
Had our first hangout SESH!
Social
Twitter! @RickandMortyPod
RickandMortyPodcast.reddit.com
www.facebook.com/RickandMortyPodcast/
TeePublic! – www.apatheticenthusiasm.com/shop